TESTIMONIALS
A.G. Beukelman, DVM, MPVM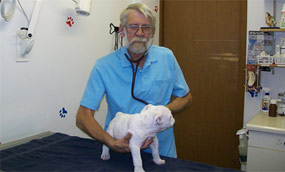 I am a practicing veterinarian in northwest Iowa. I have been in practice for about 34 years - working mainly with dogs and cats. I also work with several hundred kennels and have a kennel of my own. My main breed is English Bulldogs. I have seen many kennels with outbreaks of parvo. I recommend NEOPAR® to shut down the outbreak. I have tried many other vaccines and have found that NEOPAR® works and works quickly.
Jen Nall, Director of PAWS to the Rescue
Approximately 1,500 dogs are received at our shelter each year. Our shelter is located in a poor, rural area, and there are not enough homes for all of the dogs locally, so we network with other rescues and transport many of our dogs and puppies to the northeast. Many of the dogs that enter our shelter are underfed, stressed, and have intestinal worms. Since their vaccination histories are unknown, it is our policy to vaccinate upon entry. When we first began managing the shelter, we utilized 5-way vaccinations, but unfortunately, they failed to protect all the dogs and we had multiple cases of parvovirus each month.